Get the Facts on Frac Sand from WGNHS
Frac Sand Fact Sheet from a new 2-page fact sheet from the UW Extension and the WGNHS. See recent news.
UW Whitewater Student Chapter!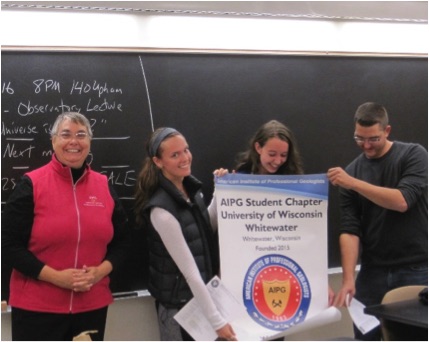 Well Data Available Online from the DNR!
See Well Constructor's Reports.
Geothermal Well Drilling
See comments on Assembly Bill 201.
Wisconsin Counties Association Conference on Mining in Wisconsin - Issues Facing County Government
Thanks to Mike Markgraf of Schmitt Technical Services for this summary.
A series of presentations relating to mining in Wisconsin were presented by several speakers as follows: Tom Woletz of the WI DNR presented an overview of proppant (frac) sand mining in Wisconsin. Mr. Woletz stated that with over 2500 sand mines in Wisconsin over the last 100 years Wisconsin has been designated the third largest producing state for this type of material. The high quality of the mature (500 Ma or older) sandstone deposits of western Wisconsin has contributed to a $540 million dollar industry nationally. The formations of interest include (from youngest to oldest) St. Peter, Jordan, Wonewoc and Mt. Simon sandstones. Younger sandstones are considered too angular and contain mixed mineralogy making them unsuitable for use as potential proppant. Mr. Woletz also spoke about the primary permits needed for sand mining operations in Wisconsin. Dan Masterpole, Chippewa County Conservationist, spoke of the rise of sand mining operations in Chippewa County. In addition Mr. Masterpole discussed how unprepared some counties are and in general a local perspective from dealing with sand mining companies as a county official. Kevin Lien, Director of the Trempealeau County Department of Land Management discussed county permitting processes as related to Trempealeau County. Phillip Fauble, Mining Coordinator for the WI DNR discussed metallic mining including current state regulations and the types of mining proposed in Wisconsin. Vic Ouimette of the Iron County Citizens Mining Advisory Committee discussed the local perspective on jobs and the community. Dave Hintz, Chairman of the Oneida County Board on Mining Oversight also discussed local community perspectives on these issues. To view the PowerPoint Presentations from this conference please visit the Wisconsin Counties Association website.
Find Out About the Proposed NR 700 Changes
See the latest rule changes here.

Wisconsin Section Newsletter
Wisconsin Section Board Meeting Minutes
Our Mission
The purposes of the Institute shall include:
advance the geological sciences and the profession of geology;
establish qualifications for professional geologists;
certify the qualifications of specific individual Member geologists to the public;
promote high standards of ethical conduct among its Members and Adjuncts, and within the profession of geology; and
represent, and advocate for, the geological profession before government and the general public.
Contact Us
For questions regarding AIPG Wisconsin, please call Andy Graham at 608-662-5151.