La Follette Institute Recognizes Lilek's Innovative Approach to Handling Waste

Christine Lilek, a Southeast Region DNR hydrogeologist stationed in Plymouth and our Wisconsin Section AIPG President, is one of three people being recognized by the 2012 La Follette Institute's Lloyd D. Gladfelter Awards for government innovation! The University of Wisconsin-Madison Robert M. La Follette School of Public Affairs administers the competition, annually recognizing problem-solving and resourceful ideas generated by government employees. Chris found a way to re-use street sweepings and storm drain sediments that would normally go to landfills. Working with state, county and local municipal contacts, she was able to organize a low-hazard exemption project that sorts and screens solids for road or building construction fill, utility trench backfill, pipe bedding and aggregate in asphalt paving mixes.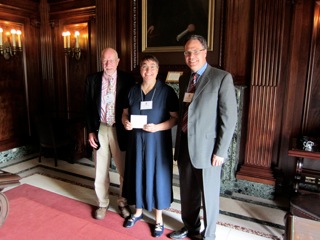 Senator Fred Risser (left) and La Follette Institute Director Tom DeLeire joined Chris as she accepted her Gladfelter Award for government innovation.

Chris received an award of $2,500. In the first year alone, the city of Wausau saved nearly $90,000 by applying her approach. It's expected that further applications of Chris's approach will save others in the private and public sectors hundreds of thousands of dollars in disposal fees alone.
Chris reminded the award presentation attendees that "the street sweeping recycling project is not just about recycling dirt; it is about people learning how to trust and share with each other."
Chris has been a hydrogeologist, environmental specialist and naturalist with DNR for 26 years; currently, in the remediation and redevelopment program managing investigations and clean-up activities for Superfund and Brown Fields redevelopment projects.
Since 1995, she's worked in DNR's Solid Waste and Recycling, Hazardous Waste, Wastewater and Parks program, encouraging other community innovations such as:
Establishing the Sheboygan County Construction and Demolition Recycling Group,
Leading the development of the "TurboEMS" environmental management system software program for small businesses and hazardous waste transport/disposal/storage facilities,
Connecting the National Guard Community Action Unit with small local municipalities to obtain free landfill cover and wastewater lagoon abandonment earthmoving services,
Obtaining funds for historical programs and natural resource signage at Wisconsin parks and trails, and
Facilitating the development of Wisconsin's first Community Wellhead Protection Plan in Cottage Grove.

In addition to serving as the current president of the Wisconsin Chapter of the American Institute of Professional Geologists, Chris is the natural resource chair for Sheboygan County's Environmental Career Connections, and is an active member of the Wisconsin Women in Government organization.
Get the Facts on Frac Sand from WGNHS
Frac Sand Fact Sheet from a new 2-page fact sheet from the UW Extension and the WGNHS. See recent news.
Well Data Available Online from the DNR!
See Well Constructor's Reports.
Geothermal Well Drilling
See comments on Assembly Bill 201.
Wisconsin Counties Association Conference on Mining in Wisconsin - Issues Facing County Government
Thanks to Mike Markgraf of Schmitt Technical Services for this summary.
A series of presentations relating to mining in Wisconsin were presented by several speakers as follows: Tom Woletz of the WI DNR presented an overview of proppant (frac) sand mining in Wisconsin. Mr. Woletz stated that with over 2500 sand mines in Wisconsin over the last 100 years Wisconsin has been designated the third largest producing state for this type of material. The high quality of the mature (500 Ma or older) sandstone deposits of western Wisconsin has contributed to a $540 million dollar industry nationally. The formations of interest include (from youngest to oldest) St. Peter, Jordan, Wonewoc and Mt. Simon sandstones. Younger sandstones are considered too angular and contain mixed mineralogy making them unsuitable for use as potential proppant. Mr. Woletz also spoke about the primary permits needed for sand mining operations in Wisconsin. Dan Masterpole, Chippewa County Conservationist, spoke of the rise of sand mining operations in Chippewa County. In addition Mr. Masterpole discussed how unprepared some counties are and in general a local perspective from dealing with sand mining companies as a county official. Kevin Lien, Director of the Trempealeau County Department of Land Management discussed county permitting processes as related to Trempealeau County. Phillip Fauble, Mining Coordinator for the WI DNR discussed metallic mining including current state regulations and the types of mining proposed in Wisconsin. Vic Ouimette of the Iron County Citizens Mining Advisory Committee discussed the local perspective on jobs and the community. Dave Hintz, Chairman of the Oneida County Board on Mining Oversight also discussed local community perspectives on these issues. To view the PowerPoint Presentations from this conference please visit the Wisconsin Counties Association website.
Find Out About the Proposed NR 700 Changes
See the latest rule changes here.

Wisconsin Section Newsletter
Wisconsin Section Board Meeting Minutes
Our Mission
The purposes of the Institute shall include:
advance the geological sciences and the profession of geology;
establish qualifications for professional geologists;
certify the qualifications of specific individual Member geologists to the public;
promote high standards of ethical conduct among its Members and Adjuncts, and within the profession of geology; and
represent, and advocate for, the geological profession before government and the general public.
Contact Us
For questions regarding AIPG Wisconsin, please call Andy Graham at 608-662-5151.